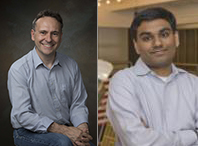 Professors Pieter van Dokkum and Nikhil Padmanabhan have been listed among the Highly Cited Researchers in 2016 by Intellectual Property (IP) and Science business of Thomson Reuters. 
According to their website, the list "is an annual list recognizing leading researchers in the sciences and social sciences from around the world. The 2016 list focuses on contemporary research achievement: only Highly Cited Papers in science and social sciences journals indexed in the Web of Science Core Collection during the 11-year period 2004-2014 were surveyed."
The list includes 8 other scientists currently at Yale.