Kristo Ment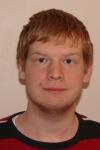 Address:
260 Whitney Ave, New Haven, CT 06511-8903
P.O. Box 208101, New Haven, CT 06520-8101
Kristo Ment was born and raised in Pärnu, Estonia. Coming from an economically disadvantaged family, he attended a public Estonian high school, during which he also took part in several international contests and olympiads (IPhO, IMO, IAO, IJSO). In his spare time, he enjoyed debating, creative writing, and running a private student newspaper.
Before coming to Yale, Kristo found his passion in physics and astronomy. Currently, he is working with Prof. Charles Baltay on a survey that scans the Milky Way for pulsating RR Lyrae variable stars. These stars can be used as standard candles to study the density profile of the halo of our galaxy. Kristo is an astrophysics major, although he is interested in foreign languages (French, Russian, German) and computer science as well. Kristo's favorite topics in astronomy include stellar evolution, space travel, and  the search for exoplanets and extraterrestrial life. He is a member of the Party of the Left, and he also loves cycling.