Malena Rice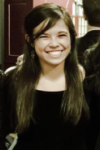 Address:
52 Hillhouse Avenue, New Haven CT 06511
P.O. Box 208101, New Haven, CT 06520-8101
Malena Rice is a 1st-year PhD student and NSF graduate research fellow from Simi Valley, California. Her main research interests include exoplanet detection and characterization, astrobiology, and planetary system formation/evolution. She received her B.A. in Physics and B.A. in Astrophysics in 2017 from UC Berkeley. Outside of astronomy, Malena enjoys playing the flute, visiting art museums, traveling, science outreach, and eating bread.