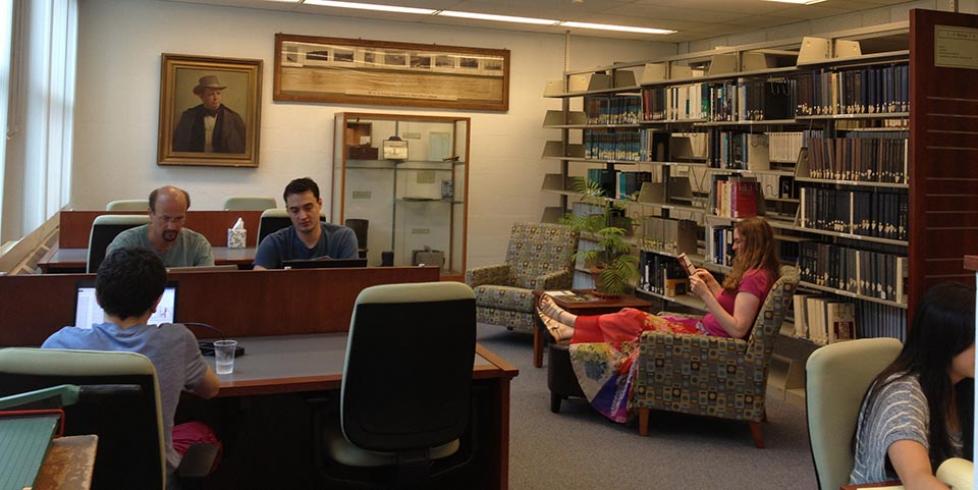 The Astronomy Library at Yale is a research library intended primarily to serve the members of the Astronomy Department. It maintains a small collection of astronomical literature and also has smaller collections of books on physics and mathematics.  Please note: this is a non-circulating library.  For additional library resources available at Yale, please see the links in the sidebar menu to the left.  For information about using the Astronomy Library, please contact Kim Monocchi.
Arrangement of Library Collections
The Astronomy Library contains many types of materials, and for practical reasons and ease of use, the collections are not arranged strictly according to the Library of Congress (LC) classification scheme. Instead, several major categories of material have been defined, and each is shelved in a different section of the library having its own system of arrangement.
Technical Astronomy Books (QB in the LC system): Shelved according to subject. Each subject is assigned a number 1 to 100. The subject number is indicated by a small round sticker on the spine of the book and on the catalog card. For most books cataloged since 1989, this number is also given in the ORBIS entry, preceding the LC number. Within each subject category, books are arranged according to the Library of Congress call card number.
Other Astronomy Books (QB): This section contains three categories of mostly non-technical books, indicated by letters on small round stickers: (B) Biographies, (C) Collected Works, and (H) History of Astronomy. Arrangement within each category is by LC number.
Mathematics (QA), Physics (QC), Chemistry (QD), and Geology (QE): Arranged in a separate section by LC number.
Other Books: These include General Science (Q), Engineering (T), Navigation (V), and Bibliographies (Z) in LC order.
Our Collection also includes Slides, Video Tapes, and CD-ROMs.
Location of Library Materials
The Astronomy Library collection is located in EVN 110, except the following:
Reserve Books & Periodicals:  STN 115
Atlases, Slides, & Palomar Sky Charts: STN Cage
ESO Southern Sky Films:  EVN 102
Please contact Kim Monocchi for access.