Songhu Wang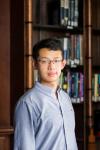 51 Pegasi b Postdoctoral Fellow
Office:
52 Hillhouse Avenue, New Haven, CT 06511-8101
Mailing Addresss:
P.O. Box 208101, New Haven, CT 06520-8101
Research:
Exoplanets, Solar and Stellar Astrophysics
Bio:
Dr. Songhu Wang is a  51 Pegasi b Postdoctoral Fellow at Yale.
Songhu's research centers on setting our Solar System into the context of the Galactic exoplanetary census by leveraging a full range of advanced observations, dynamical simulations, and theoretical insight.