Adrian Gutierrez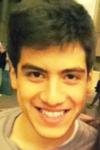 Address:
52 Hillhouse Ave, New Haven, CT 06511
P.O. Box 208101, New Haven, CT 06520-8101
Adrian Gutierrez is a junior in Trumbull College majoring in Astrophysics. Originally from Los Angeles, California, Adrian dances with Sabrosura and the Yale Ballet Company. He also helps high school seniors apply to college through New Haven REACH. In his free time, Adrian enjoys hiking and playing guitar. He started working with Héctor Arce and Jonathan Foster on determining distances to infrared dark clouds in the summer of 2014, and will continue working with them.