Aritra Ghosh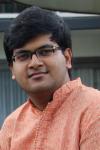 Extragalactic Astronomy, High Energy Astrophysics
Address:
Courier: 52 Hillhouse Avenue, New Haven CT 06511
Normal: P.O. Box 208101, New Haven, CT 06520-8101
Office: 46 Hillhouse Avenue Room 103
Aritra is a first-year graduate student interested in high-energy astrophysics. Aritra comes from a physics background and did his B.Sc from Presidency University, Calcutta and M.Sc from the University of Groningen, Netherlands before moving to Yale. Besides astrophysics, he enjoys cooking, listening to music, biking, traveling and organizing science outreach events! Check out his website for more info.