Jeremy Bradford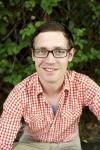 Dark Matter, Extragalactic Astronomy, Active Galactic Nuclei, Galaxy Structure, Formation and Evolution, Galactic Astronomy, Kinematics, Star Formation and ISM
Address:
46 Hillhouse Avenue, New Haven, CT 06511
P.O. Box 208101, New Haven, CT 06520-8101
Jeremy Bradford is a PhD student working with Marla Geha in collaboration with Frank van den Bosch, Michael Blanton and Jenny Greene. Jeremy studies galaxy formation & galaxy evolution using isolated low mass galaxies. He is interested in the evolution, the baryonic Tully-Fisher relation and the cold gas content of low mass galaxies. Jeremy graduated in 2012 from Central Connecticut State University where he double-majored in Physics and Mathematics. He is a National Science Foundation Graduate Research Fellow.