Joseph Schmitt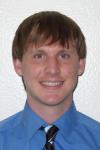 Address:
46 Hillhouse Avenue, New Haven, CT 06511
P.O. Box 208101, New Haven, CT 06520-8101
Joey Schmitt was born in Iowa and grew up in a small town across the river in Illinois.  He attended the University of Iowa, where he got his B.S. in astronomy and physics and minored in Latin.  While at Iowa, Joey worked on X-ray emissions from blue compact dwarf galaxies.  Since coming to Yale in 2012, he has specialized in the discovery, characterization, and statistical analysis of exoplanets.