Sarah Millholland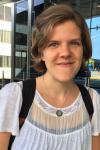 Address:
52 Hillhouse Ave, New Haven, CT 06511
P.O. Box 208101, New Haven, CT 06520-8101
Sarah is a second year PhD student interested in planets, both near and far. She is particularly interested in exoplanet detection and characterization, Hamiltonian dynamics, orbital resonance, and planetary system architecture. Check out her website for more details!