2018 Winners of Prestigious Hoffleit Research Fellowship Announced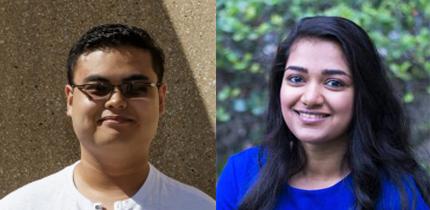 After a rigorous application process, the Yale Department of Astronomy is pleased to announce that the Dorrit Hoffleit Undergraduate Research Scholarship has been awarded to Anjana Telidevara and Hector Cruz. This year, the Hoffleit Scholarship received 48 applicants from 15 countries and 13 states for an acceptance rate of 4.17%. The Hoffleit Scholarship includes a $450 per week salary, a housing stipend, a meal stipend, and up to $1000 for travel. Hoffleit Scholars work with a Yale Astronomy faculty member on a project.
The Dorrit Hoffleit Undergraduate Astronomy Research Scholarship at Yale is named in honor of Dr. E. Dorrit Hoffleit, a senior research astronomer at Yale who worked for more than fifty years in the University's Department of Astronomy. She also served as director of the Maria Mitchell Observatory on Nantucket Island for over 20 years, where she ran summer programs for hundreds of students, many of whom went on to successful careers in astronomy. She was the author of the Bright Star Catalogue and the co-author of The General Catalogue of Trigonometric Stellar Parallaxes. In 1988, Hoffleit was awarded the George Van Biesbroeck Prize by the American Astronomical Society for a lifetime of service to astronomy. She lived for 100 years, and through her teaching and summer programs she inspired a lifelong interest in Astronomy in thousands of young women and men.
---
Hector Cruz is a rising junior at Princeton University. This summer, he will work with Professor Héctor Arce studying star forming regions with the Atacama Large Millimeter/submillimeter Array (ALMA) and the Combined Array for Research in Millimeter-wave Astronomy (CARMA). He has previously served as a research intern at ALMA and has been a team member of the Pulsar Search Collaboratory. Hector enjoys teaching and hopes to become a professor someday. As he tutors high school students, he attempts to instill the same sense of awe of mathematics and science that led him, at 9 years old, to fall in love with the stars as he gazed at them with nothing more than a cheap drugstore telescope on family road trips. Hector's high school experiences at the New Mexico Institute of Mining and Technology solidified his desire to study astrophysics. As a Catholic, he sees studying the cosmos as an opportunity to integrate his faith with science. Hector loves to cook and writes for The Daily Princetonian. While in New Haven, Hector hopes to check out the Beinecke Rare Books & Manuscripts Library.
Anjana Telidevara is a rising junior at the University of Texas at Austin. This summer, she will work with Professor Marla Geha studying satellite galaxies in the SAGA project. Anjana has been heavily involved in her project in UT's Freshman Research Initiative (FRI), "Exploring the Physics of the Universe with White Dwarf Stars." She has continued to be involved with the FRI as a sophomore, serving as a peer mentor. Anjana pursues her passion for supporting women in science by serving as an outreach officer for the Undergraduate Women in Physics organization at UT. Her astrophysical journey began with a childhood fascination with the skies and the stars, which led to her reading encyclopedias and scientific journals. Her astrophysical journey will end with a PhD and a career in research. She is inspired by Dr. Vera Rubin, who dedicated her life to the study of the universe as well as being an advocate for women. Anjana is a talented Bharatanatyam dancer, and has performed within and outside of India. She is excited to experience the libraries of Yale and museums of New Haven this summer when she is not doing research.