Priya Natarajan receives Liberty Science Center 'Genius Award'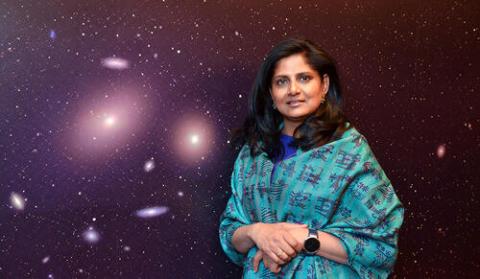 Priya Natarajan, professor of astronomy and of physics. who explores cosmology, gravitational lensing, and black hole physics, is being honored with a Liberty Science Center (LSC) Genius Award for her extensive body of work mapping the unseen universe.
The awards, created in 2011, celebrate innovation, accomplishment, creativity, science, and technology. They are presented at an annual "Genius Gala" that has raised nearly $19 million for LSC's STEM education programs.
Natarajan will give a presentation of her work in the Liberty Science Center's planetarium in New Jersey — the largest planetarium in the Western Hemisphere
The Liberty Science Center is a 300,000-square-foot, not-for-profit learning center located in Liberty State Park on the Jersey City bank of the Hudson near the Statue of Liberty. Dedicated to inspiring the next generation of scientists and engineers and bringing the power, promise, and pure fun of science and technology to learners of all ages, LSC houses a planetarium, 12 museum exhibition halls, a live animal collection with 110 species, giant aquariums, a 3D theater, live simulcast surgeries, a tornado-force wind simulator, K-12 classrooms and labs, and teacher-development programs.
Read the full article by Jim Shelton on Yale News below: