The race is on to erase space junk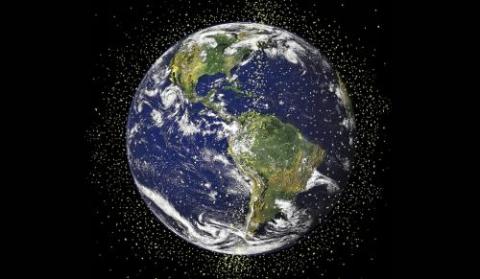 Astrophysicist Marla Geha has been doing some trash talking lately.
Nothing unseemly or untoward, to be sure. Just friendly reminders that orbiting garbage is starting to clog up Earth's satellite lanes like a halo of space waste.
Geha says we might want to do something about it — like take out the trash. Growing pockets of space debris already have an effect on scientific space missions, she noted, and pose a safety threat to manned missions. In November, for example, a Russian anti-satellite test put astronauts at the International Space Station (ISS) at risk because of the debris it generated. 
Geha, a professor of astronomy in Yale's Faculty of Arts and Sciences, recently agreed to be a judge for the Clear Constellation competition, in which teams of college undergraduates will submit designs for innovative ways to remove space debris. Rubicon, a software company specializing in waste removal and recycling, is sponsoring the competition and offering a $100,000 first prize.
Geha spoke with Yale News about the contest, the extent of the space junk problem, and the need for solutions.
How much orbiting debris are we talking about here?
Marla Geha: NASA is tracking more than 27,000 individual objects, but there are more than half a million pieces of space junk orbiting the planet. Each one of those pieces is moving along at 17,000 miles per hour.
Read the full article by Jim Shelton on YaleNews: