Seven Yale faculty members named AAAS fellows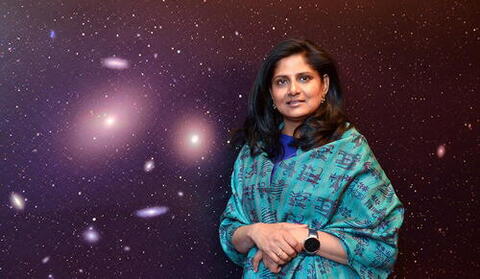 The American Association for the Advancement of Science has elected seven Yale faculty members as part of its latest class of fellows. One of the fellows is Priyamvada Natarajan, chair of the Department of Astronomy.
Priyamvada Natarajan is the Joseph S. and Sophia S. Fruton Professor of Astronomy and professor of physics in the Faculty of Arts and Sciences, chair of the Department of Astronomy, and director of the Franke Program in Science and the Humanities at Yale. A faculty member at Yale since 2000, Natarajan has made seminal contributions to the understanding of the coupling of the visible and dark universe: the formation, fueling, feedback, and assembly history of supermassive black holes in their larger scale cosmic context and mapping dark matter substructure in clusters of galaxies. Her research has focused on confronting and testing theoretical ideas with observational data in astrophysics.
The new fellows will receive a certificate and a gold and blue rosette pin (representing science and engineering, respectively) to commemorate their election and will be celebrated in Washington, D.C., later this year.
Read the full article by YaleNews', Jim Shelton, and meet the other fellows below: