Urry honored with Lamar Faculty Award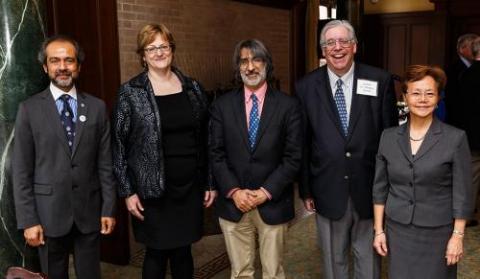 Meg Urry is one of this year's recipients of the Howard R. Lamar Faculty Awards, presented annually to faculty who have made significant contributions to alumni programs and demonstrated exemplary leadership for alumni relations. Also receiving this award is Jay Gitlin '71, '74 Mus.M., '02 Ph.D.
The awards were presented by Rahul Prasad '84 M.S., '87 Ph.D., chair of the AYA Board of Governors, at an April 27 luncheon hosted by the Association of Yale Alumni in conjunction with its quarterly Board of Governors meeting.
"These awards and citations have underscored the indebtedness of the Yale community worldwide to these remarkable scholars and teachers who have embraced graduates as their students," said Prasad, "whether they are 20 or 50 or 70."
The inaugural awards were bestowed in 2014 and named for Howard Lamar, the 21stpresident of the university and Sterling Professor Emeritus of History. Lamar was one of the inaugural recipients, alongside Marie Borroff, Donald Kagen, and Vincent Scully Jr. Subsequent recipients are listed on the AYA website.
The citation for Urry:
C. Megan (Meg) Urry
Israel Munson Professor of Physics and Astronomy
From your arrival on campus 15 years ago, you have been a friend to the Yale community, giving of your time and knowledge to enrich the lives of so many who have attended your talks and lectures, and who have traveled with you to the far reaches of the world  –  from the tundra of Antarctica to the beaches of Hawaii. Current students, as well, have benefitted from your advice at our Careers, Life and, Yale events.
Your love of Yale and commitment to lifelong learning for alumni have been demonstrated both through your dedication and your generosity. Regardless of the setting or the topic, your warmth, intelligence, curiosity, and passion shine through.
Thousands of alumni have learned about Yale's dynamic science programs from you, and they have heralded your talks for their clarity, relatability, and unfettered brilliance. For someone who has spent a career looking at the stars, you remain remarkably grounded  – a combination that has truly resonated.
You are a giant in your field, the recipient of the multiple prizes from the American Astronomical Society, a champion of women in science, and a prolific writer and researcher, yet, alumni audiences are never intimidated or overwhelmed. They are in the presence of a gifted teacher, and are wiser for having spent time with a guide who possesses the unique ability to shine a light on the structure of a black hole.
Excerpt by E.J. Crawford
For full story, click below.