Zili Shen and Kaustav Mitra - Yale 2023 3-Minute Thesis Competition Divisional Winners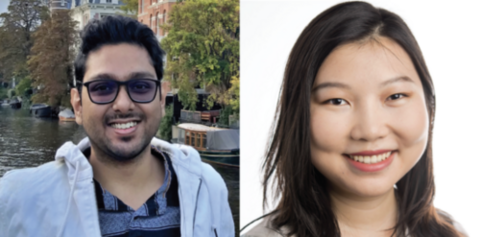 Yale's 3-Minute Thesis Competition challenges Ph.D. students to describe their thesis work to a non-specialist audience – in just 3 minutes!
Join us in congratulating Yale Astronomy Ph.D. students Zili Shen and Kaustav Mitra who won 1st and 2nd place in the Physical Sciences round of the 3-Minute Thesis Competition, held last week, for their fascinating and engaging presentations.  This year for the first time, a 1st prize of $750 and 2nd prize of $400 were awarded to the top presentations within each of 5 academic divisions. The winners will move onto the final competition on April 14.
1

st

 Place ($750): Zili Shen (4

th

 year, Astronomy): "Finding the Biggest Dwarf Galaxies in Our Cosmic Backyard"
2

nd

 Place ($400): Kaustav Mitra (5

th

 year, Astronomy): "Weighing Galaxies to Quantify Some Fundamental Properties of the Universe"
Yale's 3-Minute Thesis Competition is supported by the Yale Graduate School of Arts and Sciences.  It is a collaboration between the offices of the McDougal Graduate Student Center:  the Poorvu Center for Teaching & Learning, the Graduate Writing Lab, Graduate Student Life, the Office for Graduate Student Development & Diversity, and the Office of Career Strategy.
Yale's event is modeled on the 3-Minute Thesis Competition founded by the University of Queensland.  3MT competitions are now held at over 900 universities and institutions across 85 countries around the world.
April 14: 2023 3-Minute Thesis Final Competition
We invite the Yale community to cheer on this year's 10 finalists in this in-person celebration of Ph.D. research.  During the event, you will be able cast your vote for the People's Choice awards so be sure to register now here!
To view the full list of 2023 Divisional Winners, follow the link below: