Lauren Chambers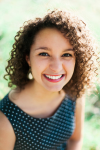 Office:
260 Whitney Ave, New Haven, CT 06511-8903
Mailing Addresss:
P.O. Box 208101, New Haven, CT 06520-8101
Bio:
Double-majoring in astrophysics and African American studies, Lauren Chambers is a Yale College student from Hampton, Virginia. Her research during her time at Yale has included high-energy physics, particle physics, and now astrochemistry. She hopes to one day become a professor who works to make the physical sciences community more inclusive.