Michael Keim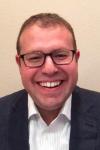 Mailing Addresss:
P.O. Box 208101, New Haven, CT 06520-8101
Research:
Dark Matter, Extragalactic Astronomy, Active Galactic Nuclei, Galaxy Structure, Formation and Evolution
Bio:
Michael is a 2nd Year PhD Student at Yale University researching the formation and evolution of galaxies with Prof. Pieter van Dokkum. As part of the Dragonfly Telephoto Array team, Michael analyzes deep images of low mass galaxies. He is especially interested in the interactions of such galaxies, which can be revealed by their faint emission.