Sarah Millholland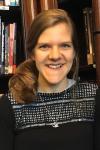 Office:
52 Hillhouse Ave, New Haven, CT 06511
Mailing Addresss:
P.O. Box 208101, New Haven, CT 06520-8101
Bio:
Sarah is a fifth year PhD student and NSF Graduate Research Fellow interested in a wide range of problems in exoplanetary science. She studies the formation and evolution, orbital architectures, and physical properties of exoplanets, and she employs a synergy of dynamical theory, numerical simulations, and statistical analysis methods. Check out her website for more details.